Howdy folks!
It's Tommy time! Community Liaison ThatTommyBoii reporting for newsletter duty!
We've got plenty to announce, let's jump in cause there's no time to waste!
Collector's Edition Joe Hills TCG card!
Today is the last day to pre-order Joe's collector edition TCG card! You can purchase a signed or unsigned copy over here!
Monthly Newsletter
Big changes coming up! For those of you who keep up to date by reading the newsletters, we will no longer have weekly editions!
Well, actually August 21st is the last weekly newsletter. After that they will be monthly! So you can expect the first edition of the monthly newsletter (and every month after that) to be posted on the second Monday of every month!
Worry not, everything in the newsletter will keep being in the newsletter! So you will always get the information, just less frequently. The one exception to this rule is the stream schedule and upcoming meetups! Joe has created a new page on his website that will update as changes occur so folks will always have the most reliable and up to date source of stream times!
You can find our first beta version of that over at https://joehills.net/soon/
Synchronizing Everstorm
One of the things that'll also change is Joe will be synching the Everstorm iterations to the monthly newsletter! This way we'll still get to include your obituaries and survivor's posts! July's Everstorm will end on Sunday, August 13th, with the August Everstorm to follow shortly after.
Patreon Subs
Some of y'all might have heard Joe talk about this on stream, but Joe wanted to share the stats of the new subs he got on Patreon! We want to extend our gratitude to the folks on tumblr who promoted and encouraged folks to join and tip Joe, thank you so much! It's been so incredible seeing new folks join the discord!
Joe has seen 21 new $1 tier subs, 27 new $5 tier subs, and 34 new $10 tier subs.
That's incredible! Thank you so so much for supporting Joe, it really means a lot to see folks support Joe's weird art and other shenanigans. He made a whole post on his tumblr, you can view that over here.
2023 Q3 Quarterly Meeting
Current 2023Q2 Agenda
No YT stream notifications – Maahes0

Stream announcement channel -BadgerSpanner

Website usability and changes -Joe
Moderation philosophy review -Joe
SMART goals – Joe

Complete pinball machine by end of season
Sustainably meet fans for signings and TCG games in 2024
Without having to change Corrinne's schools midyear, postpone having to start at a new day job until after season 10 launches so I can attend the first recording sessions.
Minecraft Servers
Joe has some more group build contests planned for the minecraft server between now and when season 10 launches! He's started writing up the rules for the first one, which will be announced and open immediately at the next petitions on August 19th.
Joe is welcome to feedback and would like folks to provide their thoughts on what did and didn't work with prior contests like the neighborhoods in season 8 and outposts and map art build contests in season 9.
You can submit that under Joe Hills Meta > #feedback-build-contests.
DS9 event schedule
DS9 Petitions

Saturday, August 19th, Noon US Central Time

National Independent Worker Day, hosted by Team Deztiny

Saturday, August 19th, 1pm US Central Time

Carl Garner Federal Lands Cleanup Day, hosted by Team Warden Hunters

Saturday, September 23rd, 1pm US Central Time
Pinball FX Weekly Tournament
Week 4: The Getaway: High Speed II
Toxxic takes the win again, congratulations!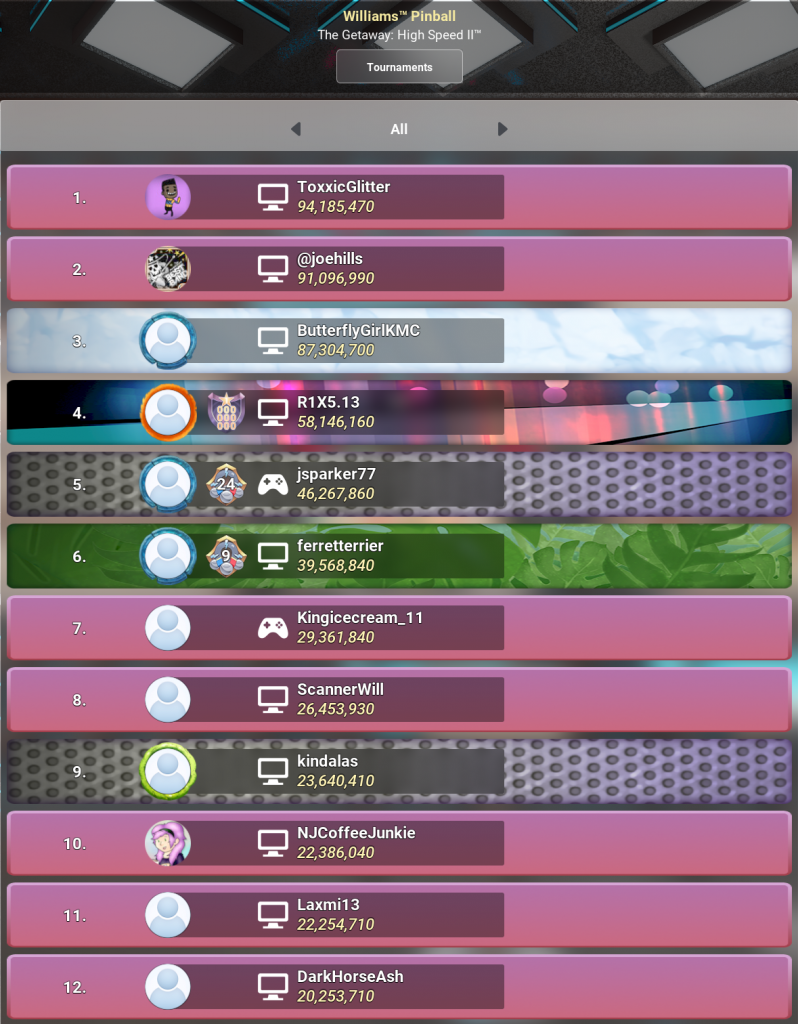 Week 5: Whirlwind
Play some pinball with us! You can join in this week by using the code available under Activity-Sign-Ups > #weekly-pinball-challenges!
Tournament Standings
Here's the standings for week 4!
You can also see how your best scores compare and where you place in the full tournament! Take a look at that over here!
HermitCraft 9 Videos
Streams
Upcoming Streams
Monday, July 31st

8:30pm: HermitCraft 9 Live

Tuesday, August 1st

8:30am: V Rising with Badger Spanner

Wednesday, August 2nd
Thursday, August 3rd

8:30am: HermitCraft with Quinn

Friday, August 4th

8:30am: Morning Coffee on HermitCraft
8:30pm: HermitCraft 9 Live

Saturday, August 5th

8:30pm: HermitCraft 9 Live

Sunday, August 6th:

8:30pm: HermitCraft 9 Live
Notable streams
Upcoming conventions
Music City Multi Con tickets sales have still not opened. Fall dates for TGD have been confirmed, so you can mark that on your calendar! We still have a tentative date for Spring TGD.
So long for now…
I hope you have a wonderful day, I look forward to seeing you next time!
This has been TommyBoii reporting for newsletter duty.
See you around!