Howdy folks!
It's Tommy time! Community Liaison ThatTommyBoii reporting for newsletter duty!
What a  month it's been so far! Let's get into the news!
Tennessee Game Days
From Friday September 15th to Sunday the 17th TGD will be running, and Joe will be there! A weekend of board and card gaming at a hotel just south of Nashville! You can find all the information you need to attend and have a great time at the convention website, the registration is open here, and you can view their game library!
There's plenty more information available for folks in the discord, under Meet-Ups > #sep-15-17-tennessee-game-days.
Collector's Edition Joe Hills TCG card!
Pre-order is still open for Joe's collector edition TCG card! You can purchase a signed or unsigned copy over here!
If you're interested in TCG games, good news! Joe has started streaming TCG games with Cub and other hermits on Tuesdays at 1pm US Central! Be sure to hop in or watch the VODs if you can't get enough of the card game!
2023 Q3 Quarterly Meeting
Another quarterly time of year! Our next meeting will be held on Saturday, August 19th at 3pm US Central time.
Current 2023Q2 Agenda
No YT stream notifications – Maahes0

Stream announcement channel -BadgerSpanner
Minecraft Servers
Parade float building contests!
We have our last two parade float building contests scheduled!
In celebration of National Independent Worker Day, Team Deztiny will be hosting their parade on August 19th, at 1pm US Central time.
In celebration of Carl Garner Federal Lands Cleanup Day, Team Warden Hunters will be hosting their parade on September 23rd, at 1pm US Central time.
DS9 July Petitions
VOD and minutes are available here!
DS9 August Petitions
The next petitions is scheduled for Saturday, August 19th, at Noon US Central time.
June Everstorm
We have a few last minute survivor entries!
Kindalas kept logging in to say hello to his friends and managed to survive every time.
Void did archeology and chilled at home with their Sniffers
Seanard survived and thrived. Dragon defeated and all.
July Everstorm
Folks have been having a killer time on the Everstorm server!
ChloeTGaP was 50% sure she was safe around the piglins
Chefnutmeg was death Bacon'd. Murdered by a piglin that followed her back through the portal.
Pinball FX Weekly Tournament
Week 3: Attack from Mars
Another victory goes to ToxxicGlitter, congrats!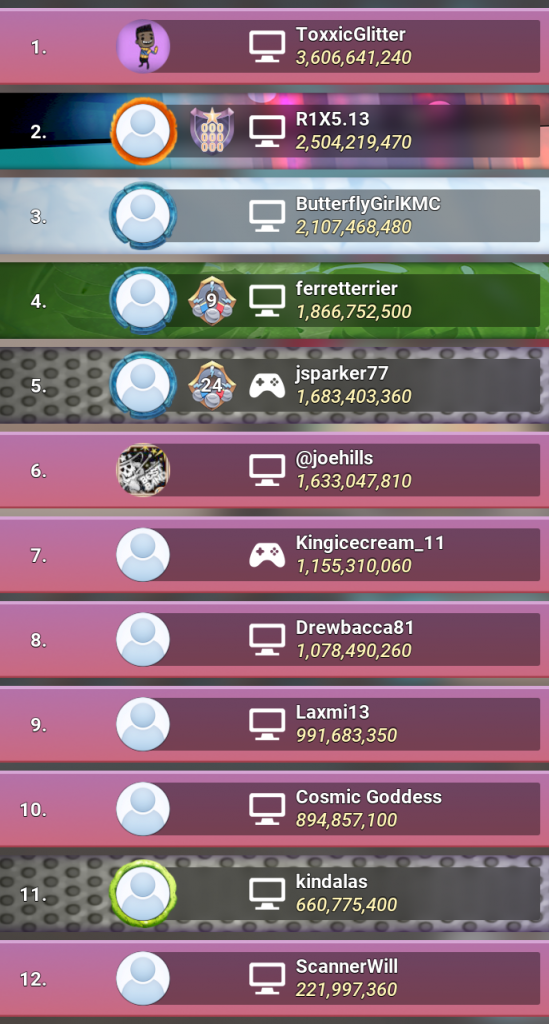 Week 4: The Getaway: High Speed II
Race to be our next winner! If you'd like to join in this week you can do so by using the code available under Activity-Sign-Ups > #weekly-pinball-challenges!
Tournament Standings
With our new rankings system for the tournament you can see how your best scores compare and where you place! Take a look at that over here!
HermitCraft 9 Videos
Streams
Upcoming Streams
New reoccurring streams are on Tuesday! V Rising with BadgerSpanner in the mornings and TCG with Cub and pals in the afternoons! All times in US Central.
Monday, July 24th

No afternoon stream
8:30pm: HermitCraft 9 Live!

Tuesday, July 25th

8:30am: V Rising with BadgerSpanner
1pm: TCG Tuesday with Cub and pals

Wednesday, July 26th

8:30am: Crafts with Cleo, pinball playfield design finalization

Thursday, July 27th

8:30am: HermitCraft with Quinn

Friday, July 28th

8:30am: Coffee and Catch-up on HermitCraft 9
8:30pm: HermitCraft 9 Live!

Saturday, July 29th

Collab stream, time to be announced

Sunday, July 30th

Collab stream, time to be announced
Notable streams
Joe plans to have V Rising be a reoccurring stream, so check out this VOD if you want to keep up!
Upcoming conventions
Music City Multi Con tickets sales have still not opened. Fall dates for TGD have been confirmed, so you can mark that on your calendar! We still have a tentative date for Spring TGD.
So long for now…
Thanks for reading the news! Your kindness, interest, and support mean a lot to me!
This has been TommyBoii reporting for newsletter duty.
See you around