Howdy folks!
It's Tommy time! Community Liaison ThatTommyBoii reporting for newsletter duty!
I'm writing this newsletter a day in advance as I am traveling to meet a friend of mine, so let me hurry up and give you the news!
Collector's Edition Joe Hills TCG card!
Pre-order is still open for Joe's collector edition TCG card! You can purchase a signed or unsigned copy over here!
Double Feature in the discord!
Reminder to folks that Joe will be joined live in-studio by Quinn Hills on Sunday, July 16th, for a double film discussion! The films are The Dish and The Shawshank Redemption
It seems like some folks already familiar with the films are interested in the discussions that will take place after, so be sure to join us!
As previously mentioned, nobody will be streaming the films, folks are responsible for obtaining their own copies and playing them at the same time. You can find a schedule under Activity-Sign-Ups > #July-16-double-feature or in last week's newsletter.
Nashville meetup
Speaking of Joe and Quinn, come hangout with them at a meetup in Nashville! More information on this can be found in the discord under Meet-Ups > #July-17-nashville.
Minecraft Servers
DS9 map art build contest
We're almost there! This Saturday I will be joined by Joe and guest judge Sfé R. Monster! for the judging of the map art build contest! Folks should be finishing up their entries and submitting them to our designated gallery, The Defiant, by midnight US central time July 14th.
Any questions should be directed to under Activity-Sign-Ups > #July-15th-ds9-map-art-build-contest.
DS9 event schedule
DS9 Petitions
Saturday, July 15th, 1pm US Central Time
DS9 Map Art Build Contest

Building is ongoing until July 14th, midnight US Central Time
Judging on Saturday, July 15th, 2pm US Central Time
Everstorm obituaries
No obituaries to report, phew!
July Everstorm
The voting window has now closed! Thank you to everyone who participated, the results have been collected and after it is ensured everything works the parameters will be submitted to Joe. He will then spin up the server for folks to enjoy what should be an interesting experience for an Everstorm. You can expect that to go live on Saturday, July 15th.
Pinball FX Weekly Tournament
Week 1: Fish Tales
Congratulations to our first winner of the FX tournaments, ToxxicGlitter!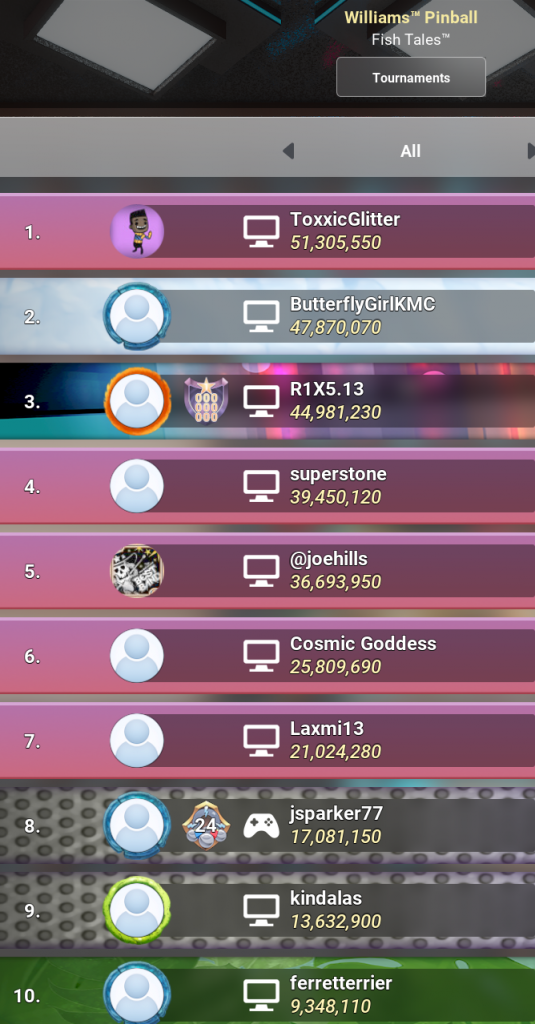 Week 2: Medieval Madness
Folks can join the madness this week by using the code available under Activity-Sign-Ups > #weekly-pinball-challenges!
Don't forget that scoring will be similar to that of a Mario Kart cup. You'll get points that scale based on your place in the individual tournament, and your 15 best weeks combine to make your final tournament score!
Streams
Upcoming Streams
Monday, July 10th

1:30pm: Bonus HermitCraft 9 Live!
8:30pm: HermitCraft 9 Live!

Tuesday, July 11th:

8:30am: HermitCraft 9 coffee stream

Wednesday, July 12th:

8:30am: Cleo Craft Stream
10am: Mario Kart Wave 5 launch with pals

Thursday, July 13th:

8:30am: HermitCraft 9 coffee stream

Friday, July 14th:

8:30am: HermitCraft 9 coffee stream
No evening stream

Saturday, July 15th:

1pm: DS9 petitions
2pm: DS9 map art build contest judging
8:30pm: HermitCraft 9 Live!

Sunday, July 16th:

8:30pm: HermitCraft 9 Live!
Notable streams
Upcoming conventions
Music City Multi Con tickets sales have still not opened. In the meantime, keep your calendar clear, we have tentative dates for Fall and Spring TGD! Again, the dates are NOT final, as the hotel contract has not yet been signed!
So long for now…
I hope you enjoyed this week's newsletter. I'll be back live on stream next week as per usual, and if you didn't know, I write the newsletters with Joe every monday morning and call in to his coffee and correspondence streams, how exciting! You should tune in so I can say hi to you, I'll see some of you then!
This has been TommyBoii reporting for newsletter duty.
See you around!