Howdy folks!
It's Tommy time! Community Liaison ThatTommyBoii reporting for newsletter duty!
It's time to get into some news, I hope you're ready, cause here we go!
Hermitcraft TCG
There's only one week left for you to pre-order the HermitCraft trading card game! You check out the game over here.
Pre-orders close May 15th, so be sure to get them while you still can!
Minecraft Servers
DS9 event schedule
DS9 Petitions

Saturday, May 20th, 1pm US Central Time

DS9 Server downtime

Tuesday May 30th to Wednesday May 31st.

Pride Parade, hosted by Team Gaymers

Sunday, June 11th, 2pm US Central Time

DS9 Petitions

Saturday, June 17th, 1pm US Central Time

Summer Solstice Parade, hosted by Team SCP

Saturday, June 17th, 2pm US Central Time

DS9 Map Art Build Contest

Ongoing until judging on Saturday, July 15th
Everstorm obituaries
No obituaries to report, phew!
The next reset is tomorrow, Tuesday May 9th. Tragically I can't share all the details I've seen from server operator ToxxicGlitter but I can share this!
When describing this iteration, Toxxic said "Laughs maniacally
Get ready for some datapack nonsense fun."
There will be modified world generation as well as crafting. To see it all you'll have to join tomorrow and find out! Who will live, and who will die in a Toxxic world?!
In the meantime, enjoy the last day of the current version, try to get a cool death for the obituary, or you can submit a survivor's message if you make it to the end! I hope to include yours!
Vanillish
Server operator Yirggzmb has overseen the update, and all seems well! The Vanillish server is now on 1.19.4!
If you've yet to join us on our minecraft servers and feel like it is too late to join our flagship server, Deep Slate Nine, Vanillish may be the one for you! No need to install any mods, though the vanilla tweaks datapacks give it a fresh spin on that classic minecraft SMP feel!
Petitions for Vanillish will be on Tuesday, May 16th, These are asynchronous, so just drop your petition request in #vanillish-petitions before the 16th and Yirggzmb will review it!
Pinball FX3 Weekly Tournament
Week 16: Dr Dude and his Excellent Ray
Another victory goes to Mr. Hardluck, congrats! That makes 3 weeks in a row! Who, if anyone, can break this streak?!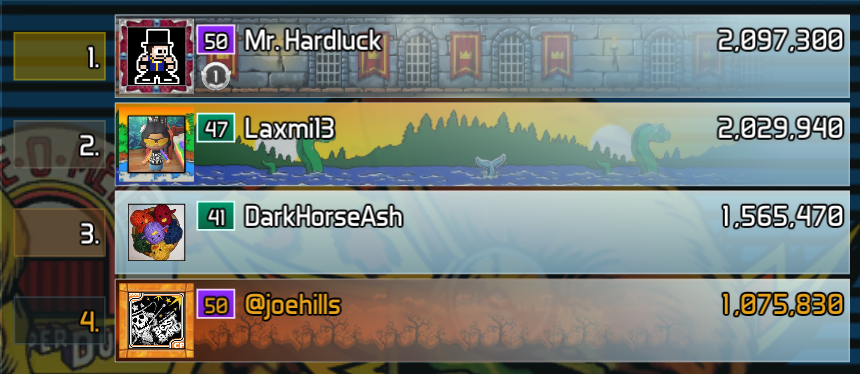 Week 17: Funhouse
Step right up and take a crack at wise-cracking Rudy the ventriloquist dummy!
If you're interested in joining the pinball tournaments you can find information under activity-sign-ups > #weekly-pinball-challenges.
Streams
I'm very excited for a stream this week! Joe will be joined by his sister Quinn Hills on Friday, May 12th at 8:30am US central time for a special 6 hour stream for the launch of the new Zelda game, Tears of the Kingdom! I'm a huge fan of Zelda games, so I'm very excited for this stream!
They'll be using Joe's arts and craft stream set up, Quinn will have a whiteboard to help map out things and keep track of quests while Joe runs around saving Hyrule! And surprise! There will be a lunch break featuring a bonus pizza cam!! This is incredible news, very cool, you are on the edge of your seat in excitement like me, right??
Also there will be some sort of donation thermometer with tipping milestones such as $6,000: New guitar for Quinn and a visit with Badger for Joe, $25,000: Pinball machines and rigs to stream the gameplay with, 2 Million: Duplex house with a garage studio, 2 Billion: prestige television network.
The specifics are lost on me, and I know Joe knows that realistic goals like these are maybe not completely viable in a 6 hour stream, but frankly hearing about it felt like I was being hazed.
I guess that's the Joe Hills difference!
Upcoming Streams
This schedule is tentative, Joe anticipates this week will be a little chaotic on the server, so I recommend subscribing to him on Youtube and Twitch with notifications enabled so you don't miss anything!
Monday, May 8th

1pm: HermitCraft bonus stream
8:30pm: HermitCraft 9 Live!

Tuesday, May 9th

8:30am: HermitCraft bonus stream

Wednesday, May 10th

8:30am: Crafts with Cleo (prepare artwork for Zelda stream)

Thursday, May 11th

8:30am: HermitCraft with Quinn Hills
8:30pm: HermitCraft 9 Live!

Friday, May 12th

8:30am: Legend of Zelda: Breath of the Wild 2: Tears of the Kingdom (2023) six-hour mega-stream with Quinn Hills

Saturday, May 13th

Noon: Four hours of TCG!
8:30pm: HermitCraft 9 Live!

Sunday, May 14th

8:30pm: HermitCraft 9 Live!
Notable streams
Joe isn't exactly sure about continuing the Don Quixote streams. If you have thoughts please put them in Joe Hills Meta > #feedback-creative. Thanks!
Upcoming conventions
Music City Multi Con has been announced! You can expect to see Joe there, though tickets are not yet available. Stay tuned for that!
So long for now…
Thanks as always for reading the newsletter! Especially you, yes you! The reader reading this right now! You're my favorite.
This has been TommyBoii reporting for newsletter duty.
See you around!