Howdy folks!
It's Tommy time! Community Liaison ThatTommyBoii reporting for newsletter duty!
We've got some updates for you, let's begin right away!
Minecraft Servers
The DS9 petition date has changed!!
Due to scheduling conflicts, Joe will need to cancel the upcoming DS9 petitions. But worry not! We're just gonna do things a little bit differently this time!
We will be doing asynchronous petitions reviewed live on Joe's stream! Folks can submit their petition request in our new channel, S9 Vanilla SMP: Deep Slate Nine > #ds9-asyncronous-may-petitions.
Then, on Monday, May 22nd at 8:30pm US Central Time, Joe will review the requests live on stream! Folks can still attend the petition of course, this method just ensures folks who can't attend on a weekday can still submit items.
If you have any questions, please let us know in the channel!
DS9 event schedule
DS9 Petitions

Monday, May 22nd, 8:30pm US Central

DS9 Server downtime

Tuesday May 30th to Wednesday May 31st.

Pride Parade, hosted by Team Gaymers

Sunday, June 11th, 2pm US Central Time

DS9 Petitions

Saturday, June 17th, 1pm US Central Time

Summer Solstice Parade, hosted by Team SCP

Saturday, June 17th, 2pm US Central Time

DS9 Map Art Build Contest

Ongoing until judging on Saturday, July 15th
April Everstorm closes
The survivors of last month's Everstorm share these final reports:
Void killed four withers, one dragon, and then flew out to explore all corners of the world before retiring
Kindalas joined the world to ride on Void's coat tails.
May Everstorm opens
Does anybody else hear maniacal laughter? Oh, it's just our server operator ToxxicGlitter! How have our players fared so far with his Everstorm this month?
ChefNutmeg started to chop a tree, a Skelly fell when leaves decayed and shot her in the face. Total time on server before death <2 minutes.
fancytoy drowned in an attempt to make an underwater staircase
Pinball FX3 Weekly Tournament
We have 4 weeks left of our Pinball FX3 tournaments, cause Pinball FX has released! We will be switching over to Pinball FX to open the tournament to more folks, as now Mac support is available, awesome!
The launch of the next tournament, utilizing Pinball FX,  will be on June 18th. We will also be using a new scoring system! Joe is working on the fine details, but it will feature weekly winners as well as a long standing rankings for the tournaments as a whole!
Week 17: Funhouse
Congrats again to Mr.Hardluck for the win! That makes 4 in a row, incredible!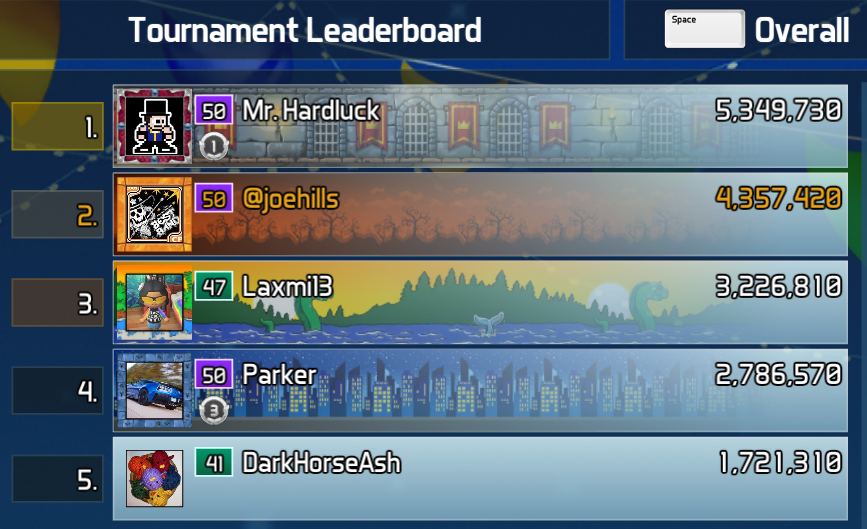 Week 18: The Party Zone
Come join our pinball party ptournament!
If you're interested in joining the pinball tournaments you can find information under activity-sign-ups > #weekly-pinball-challenges.
Streams
Upcoming Streams
All times are in US Central
Monday, May 15th

1pm: HHH stream
8:30pm: HermitCraft 9 Live!

Tuesday, May 16th

8:30am: HermitCraft coffee stream

Wednesday, May 17th
Thursday, May 18th
Friday, May 19th

8:30am Hermitcraft 9 Live! (special early show)

Saturday, May 20th

Off due to family commitments

Sunday, May 21st

8:30pm: HermitCraft 9 Live!

Monday, May 22nd

8:30am: Coffee and Correspondence on HermitCraft 9
1pm: HHH Stream
8:30pm: DS9 petitions and HermitCraft 9 Live!
Notable streams
Want to see Joe and Quinn play Zelda: Tears of the Kingdom? Have I got the VOD for you! It features my favorite, the pizza cam!
And as always, the fantastic crafts with Cleo stream VOD!
Upcoming conventions
Music City Multi Con has been announced! You can expect to see Joe there, though tickets are not yet available. Stay tuned for that!
So long for now…
I hope you found this newsletter fun and informative! Funformative? Either way, have a wonderful week!
This has been TommyBoii reporting for newsletter duty.
See you around!