Howdy folks!
It's Tommy time! Community Liaison ThatTommyBoii reporting for newsletter duty!
Joe's live again this weekday morning, so I'll be bringing you the news again! We're getting to it right away!
Mercy Road 4 Success!
The weekend has passed and so has the charity event Mercy Road 4 that was benefitting  Child's Play! Joe was joined by fellow players KrissyInColor, Kay Purcell, Tyranthesaurus, UnderdogAG, and DM Saucefire.
You can check these VODs out to see Joe and the others in action! Do mind the split videos, what's a charity stream without a few technical difficulties?



The event raised $5,550.00 and is still currently open for donations here, though on stream redemptions have concluded.
2023 Q2 quarterly meeting
As a reminder to folks we have our quarterly meeting coming up! That's gonna be on Saturday, April 15th, at 1pm US Central time. If you have any agenda item requests please submit them in the Joe Hills Meta > #next-quarter-new-business-requests channel. Channel suggestions can go in #feedback-more-channels, and emoji suggestions can go in #feedback-emoji.
I recommend checking out the feedback channels and letting us know how we're doing! We strongly encourage it as it helps us know how the community is feeling and what changes we can make to help folks.
Minecraft Server Events
Lots of events being scheduled on the server! Let's take a look!
Deep Slate Nine
Parades, petitions,  and even more parades! When you plan to have 12 parades in a year you'd think it would be spaced out to about 1 parade a month, but that's not how holidays work! Let's see what celebrations and build contests folks have to look forward to so far!
Petitions

Saturday, April 15th, 10:30am US Central time.

Yuri's Night, hosted by Team Shiny

Saturday, April 15th, 11am US Central Time

Earth Day, hosted by Team Earth Kingdom Scouts

Sunday, April 23rd, 2pm US Central Time

Pride Parade, hosted by Team Gaymers

Sunday, June 11th, 2pm US Central Time

DS9 Map Art Build Contest

Ongoing until judging on Saturday, July 15th
Sign ups are open for the parades, you can find those under Activity-sign-ups each in their own respective channels.
Everstorm
No obituaries to report, phew!
Last chance to play this iteration! The server will reset on Thursday, April 6, 2023.
Pinball FX3 Weekly Tournament
Week 11: Attack From Mars
Joe takes another pinball victory this week!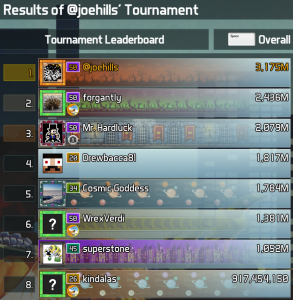 Week 12: Black Rose
Apparently this is the pirate one, so ahoy mateys! I 'ope ye enjoy the table this here week!
If you're interested in joining the pinball tournaments you can find information under activity-sign-ups > #weekly-pinball-challenges.
Upcoming conventions
PlayOnCon 2023 sales are now open at http://www.playoncon.com/memberships!
HermitCraft 9 Videos
Notable streams
Upcoming Streams
Joe and I would again like to apologize for the lack of a stream schedule, things are a little chaotic in Tennessee, and Joe doesn't want to give a timeline he's not certain he can commit to. I look forward to when we can confidently give that to y'all!
So long for now…
Thanks for reading the newsletter! I'm excited for our upcoming quarterly meeting, and I hope y'all have a beautiful week!
This has been TommyBoii reporting for newsletter duty.
See you around!