Howdy folks!
It's Tommy time! Community Liaison ThatTommyBoii reporting for newsletter duty!
I hope you're ready for some modest updates, because here they are!
2023 Q2 quarterly meeting
Final reminder to folks that our quarterly meeting is this Saturday, April 15th, at 1pm US Central time! This is your last chance to suggest agenda items, new channels, new emojis, or submit some feedback to go over, so get that in while you can!
Agenda items go in Joe Hills Meta > #next-quarter-new-business-requests channel. Channel suggestions can go in #feedback-more-channels, and emoji suggestions can go in #feedback-emoji.
Minecraft Server Events
We've got a few new items to add to the list, along with reminders of the previously announced events!
Deep Slate Nine
Petitions

Saturday, April 15th, 10:30am US Central time.

Yuri's Night Parade, hosted by Team Shiny

Saturday, April 15th, 11am US Central Time

Earth Day Parade, hosted by Team Earth Kingdom Scouts

Sunday, April 23rd, 2pm US Central Time

Kentucky Derby Parade, hosted by Team Blackwater

Sunday, April 30th, 2pm US Central Time

Pride Parade, hosted by Team Gaymers

Sunday, June 11th, 2pm US Central Time

Summer Solstice Parade, hosted by Team SCP

Saturday, June 17th, 2pm US Central Time

DS9 Map Art Build Contest

Ongoing until judging on Saturday, July 15th
Lenten Everstorm closes
Survivors of last month's everstorm have shared their final reports:
MJ went exploring beyond the safe glow of torchlight. At nightfall he began pillaring up and watched the sunset. It was a good world.
Laxmi13 survived because apparently her real body doesn't understand 2D movement anymore.
SuperStone developed new and exciting ways of not dying, then stopped playing before actually needing them.
samihiggins helped create a commune below spawn. She leaves behind many farms and many more hours in her pursuit of perfectly enchanted bows for all.
Magenta spent more time landscaping that she did caving and she build her first double-spawner mob grinder.
Phali successfully defended Voids' legacy, then took Deliverance and some supplies on his back and headed for the sunrise in search of new adventures.
April Everstorm opens
A new iteration of Everstorm is here! The reset is planned for May 9th, so come be the first to die! Or rather the next, as we already have our first obituary!
MJ was shot in the back by a skeleton while trying to escape up a staircase.
Pinball FX3 Weekly Tournament
Week 12: Black Rose
Congratulations to Asteri aka Cosmic Goddess for getting first place!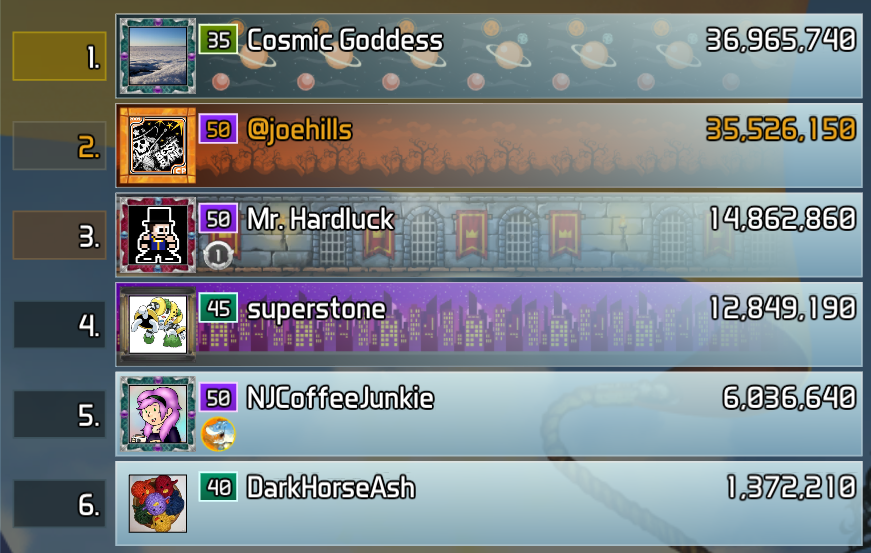 Week 13: Creature from the Black Lagoon
If you're interested in joining the pinball tournaments you can find information under activity-sign-ups > #weekly-pinball-challenges.
Upcoming conventions
PlayOnCon 2023 sales are now open at http://www.playoncon.com/memberships!
Notable streams
So long for now…
I look forward to updating folks with the events of the quarterly meeting this weekend. You'll be able to enjoy the VOD and minutes as per usual when we can get those available to folks. I hope to see you there!
This has been TommyBoii reporting for newsletter duty.
See you around!