Howdy folks!
It's Tommy time! Community Liaison ThatTommyBoii reporting for newsletter duty!
I hope you're ready for an overuse of exclamation marks, Joe is currently in what he describes as "editing jail" along with "paperwork jail" so I'll be bringing you this week's newsletter!
Let's begin!
Actually, Some of You May Be New Here!
With a new influx of patreon supporters and other folks who may be browsing this site I realize that not everybody may know what's going on!
I'd like to welcome any folks who may be new with a brief summary of what the newsletter is. Every Monday morning Joe and I meet to write and publish this newsletter here on his site!
Part of my job as Community Liaison is to help establish a connection between all of you lovely folks and Joe, but also help Joe connect with y'all! I'm kind of like a bridge of sorts.
There's a lot of information that needs to get passed between people in the community, and the easiest and best way for folks to stay up to date on everything going on is all right here in one place!
You can look forward to a new newsletter each week, barring holidays and any events that can cause delays. If you have any feedback we welcome that in the patreon discord at Joe Hills Meta > #feedback-newsletter
If you're not already a member but are interested in joining you can check out Joe's patreon page over here!
Now let's start for real!
Tumblr Poll for MCYTblr Sexyman
This isn't really what I thought I'd be reporting on when I first started writing the newsletter with Joe, but I'm excited nonetheless!
Round 6 has concluded, and in the match between ZombieCleo vs Joe Hills the winner is… Joe Hills!
I can't say I'm surprised! With all the propaganda and support I've seen on tumblr as well as discord spaces, it's no wonder he pulled through in such a tight race!
If you're interested in more data you can view it at this site here, courtesy of this-glittering-world on tumblr.
The final poll, GoodTimesWithScar vs Joe Hills, will go up tomorrow, Tuesday the 14th. What a memorable way to celebrate Valentine's day! You'll be able to vote in that poll once it goes live at mcytblrsexymen.tumblr.com.
Draw4 Charity: February
It's once again time for Draw4Charity! This charity event will be benefitting worldbuilders. You can visit their site for more information on what they do.
If you'd like to support the cause come attend the livestream event! It will be steamed from twitch.tv/Draw4Charity and is running from Friday February 17th, 6pm CST to Sunday February 19th, 6pm CST.
Joe will be popping in and out of this event all weekend, and will be hosting HermitCraft TCG on Saturday February 18th, 2pm US Central time.
He will also be hosting the Quake segment, on Sunday February 19th, 8am US Central time.
Vanillish SMP
February 14th is the date for this month's Vanillish petitions! At the time this newsletter goes live, that means tomorrow! Make sure to have your requests submitted for our server operator Yirggzmb to review!
Modded SMP
The Cliffside Competition is over! Server operator ToxxicGlitter submitted the winners, so congratulations to Mantuamaker for winning Best Overall and Best Façade! Congratulations as well to MercurialVoid for Best Lair, and thank you to _R2D2 for your wonderful entry!
If you'd like to check out the judging and walk throughs of the builds, you can watch the VOD below!
Also, to better help folks who want to install the mods to play on the Modded SMP, Toxxic has created a handy channel with a list of the mods and some commons issues. You can find that in SMP: Modded 1.19 By ToxxicGlitter > #modded-setup-guide.
Everstorm Obituaries
Deep Slate Nine parade float build contests
Celebrating Mardi Gras was superb on DS9 thanks to Team Lotus! Thank you to MeepedCubed for hosting the parade, and to all the entrants who built floats!
You can watch the VOD of the building and judging of this parade here!
Upcoming Parades
Van Gogh's Birthday Parade on March 18th at 2pm Central. Hosted by Team Holland.
More to be announced!
Pinball FX3 Weekly Tournament
Week 5: Red and Ted's Road Show results
The winner of this table is Mr. Hardluck! Congratulations!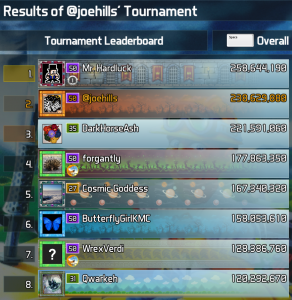 Week 6: Hurricane
Join the tournament via our Patreon Discord in Activity-Sign-Ups > #weekly-pinball-challenges
Streams
Upcoming Streams
Normally Joe would place an orderly and time accurate schedule here, but I don't have that. I can instead provide a vague summary of when to expect some streams. Sorry about that, but  I hope this will still be beneficial!
Morning Streams

Crafts with Cleo on Wednesday the 15th
In studio guest Quinn Hills on Thursday the 16th
Draw4 Quake stream on Sunday the 19th

Afternoon Streams

Draw4 Hermitcraft TCG on Saturday the 18th

Nighttime Streams
Bonus Streams

Varied and dependent on Joe escaping "editing jail" and "paperwork jail".
Notable Streams this week
Upcoming conventions
Registration and hotel booking are both now live for Tennessee Game Days Spring: March 3rd–5th, 2023 in Nashville, TN!
So long for now…
Thanks for reading the newsletter! It's always a joy for me to write. I hope everyone has a happy valentine's day!
This has been TommyBoii reporting for newsletter duty.
See you around!