Howdy, y'all!
Joe Hills here, writing as I always do from Nashville, Tennessee!
I've returned from about a month of traveling and am back at the reins of the newsletter this week, with Tommy assisting me.
Thank you very much to Tommy for working on the newsletter while I was away and thanks to everyone on the Discord for being flexible with our vacation mode experiment. I haven't seen a lot of communities try something like this, so I'll be writing a standalone blog post on how vacation mode went as a resource to others that you can expect later this month. I'm in the outline phase of that draft, and will be reading the feedback y'all share in Joe-Hills-Meta > #feedback-vacation-mode as I evaluate where the experiment succeeded and fell short. If you have questions or feedback you'd like to see considered as I write, please try to share those in the #feedback-vacation-mode channel by the end of the week.
We are out of vacation mode and the channels on the server are writable again, but that five-week break was only my first step as I work on shifting out of crisis-mode and re-focus on long-term planning. The last few years have been incredibly stressful for many of us, and I'm proud that with y'all's help, I've been able to keep things going day-to-day despite many wild uncertainties.
It's time to move past day-to-day survival, though, so I want to thank folks for their continuing patience through January as I use this quarter to reflect, re-visit, and re-evaluate in preparation for future strides.
I'm also trying to use the extra energy and focus provided by the channel culling to improve my creative output. If y'all have any thoughts on how my creative work in October and November compared to that earlier this year, I'd love to hear it in Joe-Hills-Meta > #feedback-creative
Our next quarterly meeting will be held on January 21st, 2023 at 11am US Central Time, and the current agenda is:
Creative work in 2023: episodes, streams, and songs
Vacation mode moving forward: how it will work and when to use it – Joe
Review accessibility implications of screen readers and consolidated channels -Meep and Joe
Frequency of channel culling – Joe
Adding channels back to discord – Joe
Review server emotes – Kindalas
If you'd like a topic added to the agenda, please submit it via Joe Hills Meta > #next-quarter-new-business-agenda-requests.
Empires Crossover
Grian's Rift has stranded us on Empires SMP, but I'm figuring things out as I go anyway with a little help from my friends:
I appreciate False extending an invite to the Hermits to participate in the EmpiresSMP segment of this year's
Love Tropics
fundraiser benefitting
Project Seagrass
. Over $8,000 was raised during our two-hour segment alone toward a weekend total of over $25,000! Thanks to everyone who stopped by and contributed! It was fantastic seeing so many familiar names in the donation queue.
Minecraft Server News
Categories created for each SMP server
Our server operators Yirggzmb and ToxxicGlitter requested new categories and channels for their SMP servers, and I delivered! You can find those in the category list directly below the S9 server categories.
Upcoming Petitions
Modded: on-server, Sunday November 13th, at 11am US Central
DS9: on-server,  Sunday November 13th, at noon US Central
Vanillish: asynchronous via SMP: Vanillish by Yirggzmb > #vanillish-petitions
Weekly Pinball Tournament
Monster Bash Results
Congrats to Forganty for securing a sweet Halloween victory on Monster Bash!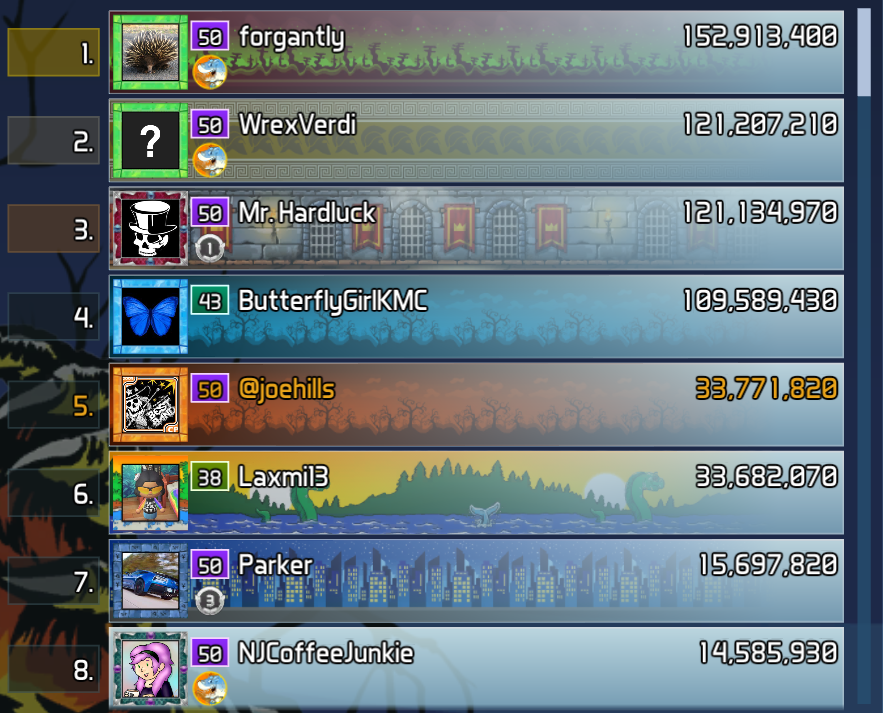 This week's tournament: Medieval Madness
This week's table is one of my favorite of all time, and I hope you have the chance to play it yourselves someday!
The exploding castle is incredibly cool in real life, but Pinball FX3's simulation of it isn't bad either! This tournament is open through Sunday night, and details for joining are available in Activity-Sign-Ups > #weekly-pinball-challenge
Other streams this week:
HermitCraft 9 – Empires too
Don't forget, VODs of my Minecraft streams will no longer appear as uploads on my YouTube channel, but will instead be added to the Minecraft Streams playlist which you can find at: https://www.youtube.com/playlist?list=PL7On8E0_x1tqPDjC8GzcujZnxr5hLYr53
Crafts with ZombieCleo
Dracula: Chapter XIX feat. BadgerSpanner
Upcoming conventions
My schedule is pretty light for the time being, but I hope to see some of y'all in March for Tennessee Game Days Spring!
Until next time y'all…
This is Joe Hills from Nashville, TN. Thanks again to Tommy for assistance on this newsletter as always!
Keep adventuring!