Howdy folks!
It's Tommy time! Community Liaison ThatTommyBoii reporting for newsletter duty!
First and foremost, Happy Halloween! If you celebrate with costumes or confections, tricks or treats, scary cinema or spiced coffee, I hope you have fun! For those who don't celebrate there's still discount candy to look forward to!
Now let's get into the news!
Pinball FX3 Tournaments
Creature From The Black Lagoon results
A previous champion rises from the dark, congratulations to WrexVerdi!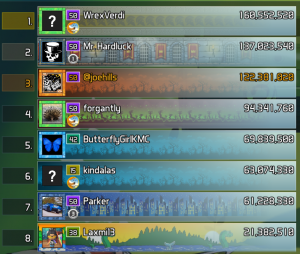 This week: Monster Bash
Who will be the victor this week? Hopefully not just Frankenstein! Get into the Halloween spirit with this table, information to join can be found in Activity Sign Ups > #weekly-pinball-challenges
Minecraft Server News
DS9
The Halloween build contest has concluded! Thank you to Outpost Not Kansas for hosting, and congratulations to MagentaAvocado with Team Earth Kingdom and Elijah for winning first place!
If you'd like to see their float, along with all the other participants, you can view this VOD of the contest and judging.
Information on the next holiday parade float build contest will be available soon. Stay tuned!
Everstorm Obituaries
There aren't any obituaries to report for the week, phew!
If you have yet to check out the Everstorm server, you can find information on it in Realms and Servers > #everstorm-october-2022
Modded 1.19 Fall
ToxxicGlitter has announced the date for his first ever server petitions! Join the server or send in a proxy on Sunday November 13th, at 11am US Central Time! For the mod list and information on Toxxic's server you can check Realms and Servers > #modded-1dot19
Discord Server News
Today's the day! We've made it to the end of our first vacation mode! Joe will be unlocking all of the channels, and I look forward to chatting with y'all again!
I know I've said it before, but I want to again thank everybody in our community for being so patient and understanding with our need to have vacation mode. You are all amazing, thank you so much!
That being said, I would also like to remind folks that we strongly encourage feedback! Please let us know your thoughts and any questions, comments, or concerns over in Joe Hills Meta > #feedback-vacation-mode.
I'd also like to request some feedback on the last few newsletters, as I have been writing them solo for the duration of this vacation mode. Please direct all thoughts on that topic to Joe Hills Meta > #feedback-newsletter. Thanks!
HermitCraft Episodes and New Short
If you've been out of the loop, something big has happened on Hermitcraft… It's a lot to unpack, so I'll let Joe's new short open that can of worms for you!
If and when you're up to speed, here's some new HermitCraft episodes to enjoy!
Meet-ups and Conventions
Music City Multi-con has ended! If you missed it and would like to plan ahead to see Joe at a convention, we've got one confirmed event next year!
We'll keep you posted if anything new gets added to the list!
Upcoming conventions
So long for now…
Thanks to everyone who stays up to date with the newsletter! I'll be back with Joe next week for more newsletter-y goodness. I hope you have a great day!
This has been TommyBoii reporting for newsletter duty.
See you around!