Howdy folks!
It's Tommy time! Community Liaison ThatTommyBoii reporting for newsletter duty! We've got a lot of things to share today, and I couldn't be more excited, let's get into it!
HermitCraft Charity Stream Event
On October 23rd, GoodTimesWithScar organized a charity livestream event benefitting Gamers Outreach.  They provide children's hospitals with gaming carts to give a sense of normalcy and joy to kids.
The original goal of the stream was $25,000. As I currently type this, we have reached over $435,000.
This is bigger than huge, it is absolutely incredible. To everyone who donated, watched the stream, spread word about the event and who support the hermits in general, thank you so much!
This was all because the Hermitcraft community is one of the kindest and most supportive communities you could find. Thank you again and again.
The donation page is still open, if you missed the event and would like to donate you can do so here.
Additionally, Joe pledged to shave his beard on stream if we reached $250,000 and I am very pleased to be able to link you to the VOD of that stream now!
Congratulations Joe and Badger!
Speaking of Joe, congratulations to him and BadgerSpanner! For those who may have missed it, Joe proposed to Badger and they are now engaged! The community extends all their love and support to the two, and we hope they have a happy and wonderful life together.
You can see the engagement photos over here at Badger's twitter.
Congrats again, and much love!
Pinball FX3 Tournaments
FunHouse results
The fun doesn't stop, Forgantly takes another win!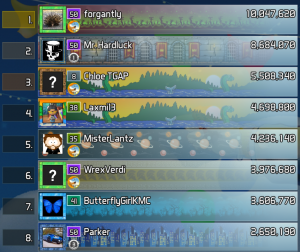 This week: Creature From The Black Lagoon
To get into the spirit for Halloween, we've got a spooky themed table from the Universal Monsters Pack! Can anybody end Forgantly's reign of terror?
Minecraft Server News
September Everstorm Survivors
WizardOfDocs made several daring supply runs under the six noses of two Withers, and then moved into Gem's castle and got distracted by skyblock.
MJ used Zedaph's lab as a base of operations and found Evil X's stash of Totems of Undying while under the not careful watch of two Withers!
Laxmi13 didn't die because people who came before her created a safe place to hide from the wither.
October Everstorm Obituaries
mercurialvoid overestimated their ability to take on a group of skeleton horsemen
WizardOfDocs made a valiant effort to help MagentaAvocado with their phantoms.
Darth_Skellious was hunting for skeletons and one knocked him into a hole that had two creepers in it…he did not survive.
Qwarkeh helped make some weapons, and then got complacent and turned her back to the woods. HISS, BOOM!
Modded 1.19 Fall
ToxxicGlitter has updated the modded server! There has been some patches as well as additions, you can find all the information in Realms and Servers > #modded-1dot19.
Toxxic will also be holding his first minecraft server petitions!
For those unfamiliar, our minecraft petitions involve the players having a meeting with the server's creative lead in which they bring their woes, grievances, annoyances, or any other sort of issue they might be having.
They may request a solution from the server lead, which is open for discussion to the community members attending the petition. You can also send in a proxy if you are unable to attend. The results vary greatly depending on the server lead.
If you would like to attend there is a poll in Realms and Servers > #modded-1dot19 to select a date that works best for the players. Make sure you vote and keep an eye out for the results!
Discord Server News
As many if not all of you are aware, the discord has been in vacation mode for a few weeks now. We are quickly approaching the end of this vacation mode, and you can expect to see the discord back next week!
October 31st is the day we shall be transitioning back, I hope everyone is excited!
As always when we try new things, we greatly welcome feedback. Once the discord is fully open members will have access to Joe Hills Meta > #feedback-vacation-mode to let us know what they thought.
I would again like to thank folks for allowing us to have vacation mode. Thanks for your patience, see you on the other side!
HermitCraft Episodes and Stream VODs
Some folks may have noticed a change in Joe's youtube channel. In an effort to tidy things up, Joe has created four new playlists for stream VODs. Now you have a convenient playlist for craft streams, Minecraft streams, Dracula reading streams, and pinball streams!
The King story concludes!
With the story of Ren the King coming to an end, we felt the need to share RenDog's episode, as it starts off with an epic poem crafted by Ren and Joe! If you missed Ren's video, you can check it out here!
Joe's HermitCraft episodes
Meet-ups and Conventions
Pinball Expo seemed to be a lot of fun based off the chatter folks in attendance were having! If you're interested in a meetup, you can catch Joe at the following conventions!
Upcoming conventions
So long for now…
This past week has been fantastic, there is so much love here y'all. I have never been more proud to be a part of such a lovely community. I can't begin to express my gratitude, so let's just continue being excellent to one another!
This has been TommyBoii reporting for newsletter duty.
See you around!