Howdy, y'all!
Joe Hills here, reporting as I always do from Nashville, TN!
If you're new to the newsletter or unfamiliar with my Patreon community, you may be wondering how to become involved with the happenings you read about below. You can get started at https://patreon.com/joehills.
Stream schedule changes
After significant consideration about how to edit and upload episodes more frequently and bring the most energy to each show in my streaming schedule, I'm making the following changes:
Monthly SMP server petitions will be streamed from my POV with a focus on fun and theatricality.
Server performance and user accessibility issues will be handled via text chat on Discord on an ongoing basis to avoid addressing serious concerns in a setting with too playful a tone.
I'm removing the Wednesday night 8:30pm HermitCraft Live! stream from my weekly schedule, and will re-allocate those work hours elsewhere in the week depending on how editing is going.
Wednesday will still be a work day for me, and my Wednesday morning craft streams with Cleo will not be affected by this change.
The Saturday night HermitCraft Live stream will focus on material gathering, farming, and other grindy tasks so I can read one chapter of Bram Stoker's Dracula aloud each week. I've already started reaching out to potential guests who may voice certain characters—but for this week, it'll just be me reading chapter 2.
If you missed Saturday night's stream, here's the VOD of me reading chapter 1:
Vanillish server launches running Minecraft 1.19 and quality-of-life datapacks
If you're looking for a long-term Minecraft SMP server that's more survival-comfort than survival-horror, I have one question for you:
How would you like a server where the person making the rules isn't obnoxious or intentionally obtuse?
I'm excited to announce that this Sunday we launched our first long-term SMP server with a creative lead from our server operations team. Thanks so much to Yirggzmb for pioneering this project!
Connection info, as well as a full list of Yirggzmb's game rules and data packs can be found in Realms-and-Servers > #vanillish-general
Enjoy!
Everstorm server change
Yirggzmb's May Everstorm session concludes
Thanks so much to Yirggzmb for creating May's Everstorm game! We had two folks who survived and wrote haiku:
MJ: Lived a simple life. / Fought the End Dragon and flew. / Guardians with Em.
Em: Built an iron farm. / Many villagers go BRRRR. / Journeyed with MJ.
If you have any feedback about the May Everstorm session, please leave it in Joe-Hills-Meta > #feedback-everstorm.
ToxxicGlitter's June Everstorm session begins
New session, new rules
Our latest Everstorm Session was designed by our server operator ToxxicGlitter, and will run until Tuesday, July 12th.
Toxxic has made a lot of changes to Minecraft world generation and gameplay rules, many of which he has hidden behind spoiler tags in his pinned message at the top of the Realms and Servers > #Everstorm-June-2022 channel, but here's a few of the obvious changes:
Crafting armor has been removed (except for gold and turtle)
Armor is still obtainable through all other means
Mob griefing off (villagers cannot breed)
permanent night
Obituaries so far…
ChefNutmeg became a Skelly's Shishkabob while gathering trees to hide the base
MagentaAvocado perished to zombie fists while helping to secure food for the server
A creeper decided to christen MisterLantz's boat trip with a bang.
MJ: Left the farm. Bad move. / Built a fun little house but / Creeper gonna creep.
WizardOfDocs had a look around spawn, started harvesting vegetables, and engaged in witty banter with an eldritch god (aka Toxxic). And then suddenly there was a creeper in their blind spot.
NJCowoffeeJunkie: It was Father's Day/while exploring, I was away/Two little zombs had murder in eyes/Then their dad came to enter the fray./Bravely tried but ended up fried oh well, at least I got to explore
Madelinessocks: Tried to save my love/I forgot I had a shield/Tridents hit real hard
Atlantius almost made it past a wither skeleton back to the safety of his portal bunker.
Gartic Phone with ThatTommyBoii this Tuesday at 8:30
ThatTommyBoii's Gartic Phone game is this Tuesday, June 21st at 8:30pm US Central time!
Gartic Phone is a cross between pictionary and the game telephone!
Join folks as we draw silly things!
You can find more information and suggest a theme over in activity-sign-ups >
june-21-gartic-phone
Pinball FX3 weekly challenge with Sami
Medieval Madness! Week #3 is underway!
Let's get ready to destroy some castles! Sami has wisely selected one of the most widely-loved pinball games of all time for this week's Pinball FX3 tournament.
Learn how to compete in Activity-Sign-Ups > #weekly-pinball-challenges
Week #2: Monster Bash Results
Congratulations to Forgantly for a decisive victory in week 2!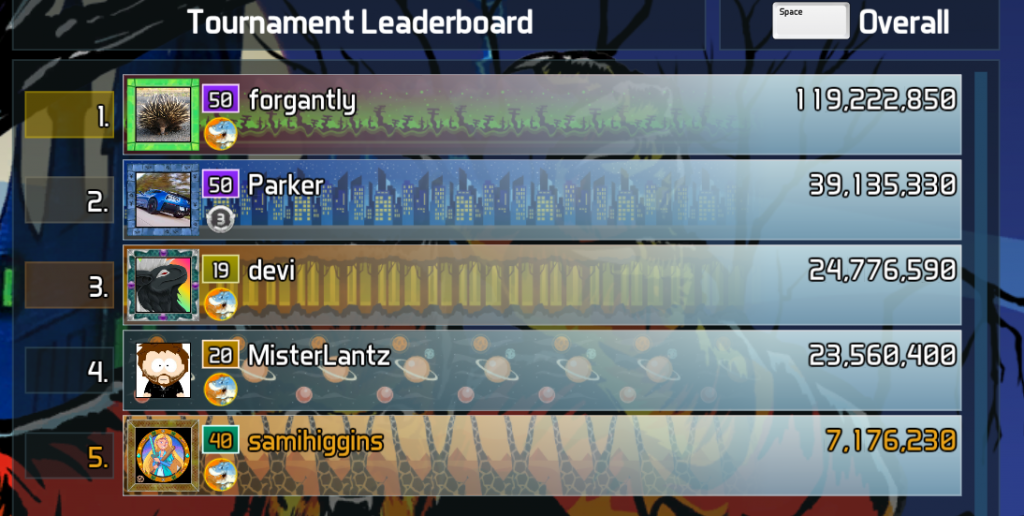 Two tabletop RPG games this week!
Even if all the player seats are full at the tabletop games this week, community members are welcome to listen in by joining the voice channels with their mics muted during games.
June 25th at 1pm US Central: D&D 5e on the High Seas with DM Saucefire
June 26th at 1pm US Central: Pathfinder 2e with DM Joe Hills
Learn more in each event's respective Discord channel!
Monthly Petitions
In my an attempt to restore some theatricality to petitions, I have returned to streaming them myself. Here's the VOD of June petitions for both the Experimental and Deep Slate Nine vanilla SMP servers, with a bonus community field day of Cubfan135's Leaf Spleef and BDoubleO100 and Ethoslab's horse racing on the HermitCraft season 8 world download.
Experimental SMP June Petitions Highlights
The Decorative Blocks mod used on the Experimental SMP server hasn't been updated yet for 1.19 by its author, so most of the requests today were for additions or changes to be made once it becomes available and the server is updated.
WizardOfDocs requested the wooled boots mod. I have decided to install the mod, but disallow direct crafting of the boots, which will instead need to be captured from pigmen.
Seanard requested that when the world border is expanded with the 1.19 update that the new center be at 

-2500 -2500 and the diameter be 15000 blocks. Granted.

QueenDarkLady requested a silverfish head. I granted everyone a silverfish egg.
Deep Slate Nine Vanilla SMP June Petitions Highlights
RedRags77 requested world downloads be made available during the season for planning purposes.

I rejected this because it felt like it was publishing folks' work before it was ready for public consumption.
Kindalas pointed out that Litematica can solve this problem, and I relayed this information to the other Hermits

MeepedCubed presented me with a shulker box diorama of myself and ZombieCleo as hermit crabs, which was so delightful I requested they display it publicly near spawn
NJCoffeeJunkie requested hoes with unlimited unbreaking to make harvesting Mangroves easier. Declined based on community feedback that B'hala already generates enchanted hoes and unbreaking and mending enchantments are core gameplay counters to the durability mechanic.
Maahes0w0 requested horse armor with the feather falling enchantment be added to the B'hala loot rotation. Granted.
Maahes0w0 also requested 3 special enchanted crossbows for the BlackWater outpost, and I decided that they sounded so fun that everyone should have the chance to receive one. I added them to the loot rotation for B'hala with the name requested, "Peacemaker" and the lore, "Blackwater Special."
Gritmonger presented ASCII art copy/paste books he called the AltCodex, including a text file version I can use on HermitCraft. Thanks!
Kindalas requested Amethyst buds be added to the B'hala loot rotation. Granted.
Quarterly Meeting
Our community Liason ThatTommyBoii recorded the following VOD of our quarterly meeting. Full minutes will be available next week in Newsletter #13.

Crafting Streams
This Wednesday, I'll be back to drawing Pinball machine with ZombieCleo!
Last week, we were fortunate to have JaneyLaney join us, I hope you enjoy the VOD from that:
HermitCraft: Yellow Nether Tunnel complete!
Upcoming events
PlayOnCon tickets still available!
Come hang out with NJCoffeeJunkie, Yirggzmb, and myself in Columbiana, Alabama on July 7th–10th at PlayOnCon!
I've been an attendee and guest of PlayOnCon every year for over a decade, and it's always incredible!
You can buy a hotel room and badge at: https://www.playoncon.com/memberships
Other upcoming conventions
Until Next Time, Y'all…
I wouldn't have been able to put all this together without our Community Liaison ThatTommyBoii helping with the newsletter! Thanks, Tommy!
Next week, we'll be back with screenshots from each of the servers showcasing some of the exciting developments on each!
I hope y'all have a fantastic week and keep adventuring!