Howdy folks!
It's Tommy time! Community Liaison ThatTommyBoii reporting for newsletter duty!
If you're ready to hear the news you're in luck, here it is!
TCG cards update
Joe's made a post over here on Mastadon about signing his TCG cards! He and the other Hermits have been signing cards like mad and sending them back to Creo, so we're one step closer to folks being able to get their signed cards!
2023 Q3 Quarterly Meeting
The meeting is this Saturday, August 19th at 3pm US Central time! I will see folks there and as always stream it to my twitch channel for folks to watch it live. The VOD and meeting minutes will also be made available for folks at a later date and time.
Current 2023Q2 Agenda
Emojis

When will be adding the new emojis approved at past meetings? -Tommy
/o/ \o\ Animated dance emoji -Maahes0
Good point emoji – Nepeta

Fair point image created by Quill

More channels

#fashion -Ad-Astra
#word-games -Tommy via Dahlia's suggestion

No YT stream notifications – Maahes0

Stream announcement channel -BadgerSpanner

Website usability and changes -Joe
Moderation philosophy review -Joe
SMART goals – Joe

Complete pinball machine by end of season
Sustainably meet fans for signings and TCG games in 2024
Identify where we are reliant on twitter and move that functionality in-house or elsewhere

Website usability and changes
Monthly newsletter cross-posted to Patreon

Prepare for the 2024 launch of Vanilla SMP Season 10 by experimenting with game design concepts during the final months of 2023
Without having to change Corrinne's schools midyear, postpone having to start at a new day job until after season 10 launches so I can attend the first recording sessions.
Minecraft Servers
Reminder to folks that Joe will be announcing a new long term build contest this Saturday August 19th at the DS9 petitions! Feedback is still welcomed pre and post petitions over in Joe Hills Meta > #feedback-build-contests.
Following this is the National Independent Worker Day parade, starring our beloved musical guest Quinn Hills!
DS9 event schedule
DS9 Petitions

Saturday, August 19th, Noon US Central Time

National Independent Worker Day, hosted by Team Deztiny

Saturday, August 19th, 1pm US Central Time

Carl Garner Federal Lands Cleanup Day, hosted by Team Warden Hunters

Saturday, September 23rd, 1pm US Central Time
Everstorm July closes
The last obituary of the world:
SuperStone explored the Terralith biomes and died running from skeletons in a forest, having never learned what to break to get armor.
The survivors of last month's Everstorm share these final reports:
Laxmi13 joined last minute to die but enjoyed random loot too much to give up.
SalemOleander had a delightful and spreadsheet-filled time on their first Everstorm!
Gritmonger showed up late, but survived, and went on to light up one of the new style villages Seanard discovered.
Void got a headache trying to remember loot-drops and returned in time to get the final hit on the dragon.
Magenta made a house of chaos and ventured to all four corners of the world.
ruffboi showed up VERY late, and did little, but figured out how to get the elusive phantom membrane.
MJ worked through the randomization to build a Zelda inspired house. He explored a desert city, floating sky island, and rescued a villager trapped at sea.
Kindalas took advantage of the starter kits put to gather by Gritmonger and traveled to the End to help put an end to the Ender Dragon.
Beyr33 tried to turn the world purple without success after helping killing the dragon.
Everstorm August opens
The next Everstorm is here again! The parameters for this iteration have been selected by Joe and his wonderful daughter Corrinne! It's up to folks to hop on the server and find out what's new! If you're interested the info to join is under Realms and Servers > #everstorm-aug-2023.
Also as a reminder to folks, this Everstorm and all the future ones to come will be synced to the monthly newsletters! The Everstorms will conclude within the last week of the month and the obituaries and survivor's posts will go up in the newsletter that is posted at the beginning of the month following.
August's Everstorm is set to end on Thursday, August 31st.
Pinball FX Weekly Tournament
Week 6: Junk Yard
Toxxic gets another congratulations for his 6th win in a row!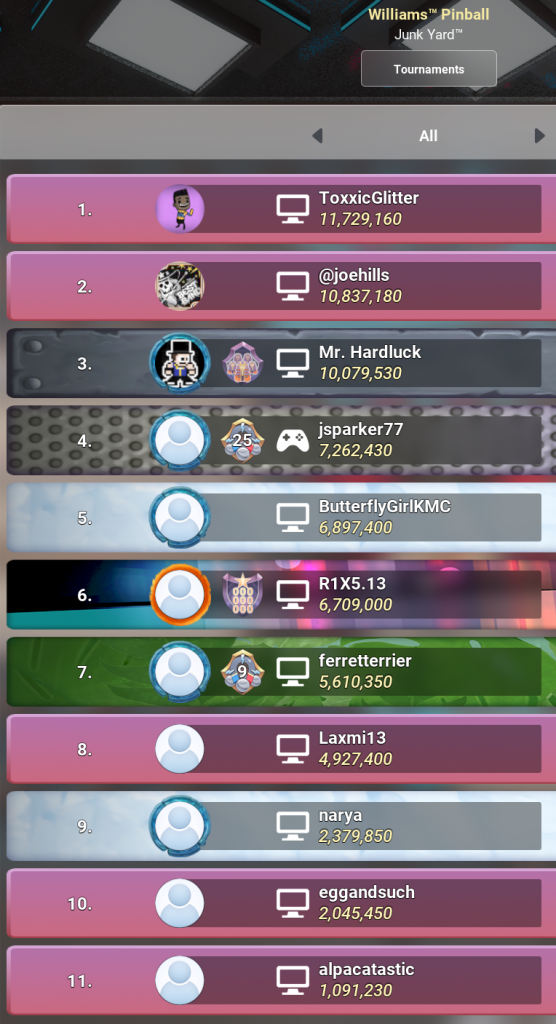 Week 7: Black Rose
Avast! Come play some pinball with us! You can join in this week by using the code available under Activity-Sign-Ups > #weekly-pinball-challenges!
Tournament Standings
Here's the standings for week 6!
You can also see how your best scores compare and where you place in the full tournament! Take a look at that over here!
HermitCraft 9 Videos
Streams
Upcoming Streams
You can see a calendar of all Joe's upcoming streams over at the new page here!
Notable streams
Crafts with Cleo!
TCG Tuesday!
Upcoming conventions
Music City Multi Con tickets sales have still not opened. Fall dates for TGD have been confirmed, so you can mark that on your calendar! We still have a tentative date for Spring TGD.
So long for now…
Next week is our last weekly edition of the newsletter. We've come so far thanks to folks like you who read these and stay updated. Thank you so much!
This has been TommyBoii reporting for newsletter duty.
See you around!