Howdy folks!
It's Tommy time! Community Liaison ThatTommyBoii reporting for newsletter duty!
Forgive me for not getting this newsletter out to you sooner, I had an internet outage yesterday and didn't get wifi back until about 3:40pm eastern. Such is life, but it worked out for the better this way, as now I get to report DS9 petitions to you as well!
Let's not get too far ahead  in this intro, here's the news!
Minecraft Servers
One week before Deep Slate Nine server downtime!
As a reminder to folks, the DS9 server has expected downtime from May 30th-31st. This is so Joe can upgrade the hardware and thus give the players a better experience.
Joe will also be utilizing that time to reset B'hala, so players will have that to look forward to. If you have any major projects or tasks you were working on, you have the next week to finish or get them in a stable state! Thanks!
DS9 May Petitions
We held asynchronous petitions for DS9 on the 22nd! Folks submitted their requests in writing and had them reviewed live on stream!
You can find the VOD and minutes from the petition here.
DS9 event schedule
DS9 Server downtime

Tuesday May 30th to Wednesday May 31st.

Pride Parade, hosted by Team Gaymers

Sunday, June 11th, 2pm US Central Time

DS9 Petitions

Saturday, June 17th, 1pm US Central Time

Summer Solstice Parade, hosted by Team SCP

Saturday, June 17th, 2pm US Central Time

DS9 Map Art Build Contest

Ongoing until judging on Saturday, July 15th
Everstorm obituaries
No obituaries to report, phew!
Modded SMP
An update has come in from server operator ToxxicGlitter! The modded server's restart is aimed to be on June 13th! It will run for about 3(ish) months, and will be a more serious modpack, specifics still to be determined.
You can make suggestions over in SMP: Modded 1.19 by ToxxicGlitter > #modded-feature-request
Vanillish
Petitions for Vanillish happened on May 16th! Server operator Yirggzmb has two updates! The full details can be found in SMP: Vanillish by Yirggzmb > #vanillish-petitions. I will provide a summary for you here:
Request for voice mod for the server

The request has been green lit and given to Joe, this change will not be immediate, and will require the server to stay on one specific game version as opposed to updating to the newest version, as DS9 does.

Other Stuff

Now that we are on 1.19.4, Yirggzmb has added chairs to Vanillish!

Name a minecart "chair" (all lowercase, no quotes) and hold it in your main hand. This will transform into a special item you can place down to create a "seat". It is an invisible item you can see by turning on hitboxes (f3+b). You sit with right click and break it with a left click. These are entities, so caution is advised in terms of lag.
Pinball FX3 Weekly Tournament
Oops! Firstly, let me apologize for me dropping the ball and not noticing this slip up. We have been off with the count of the pinball tournament weeks! This week's tournament is actually Week 20, sorry for the confusion!
I'd also like to apologize to Mr. Hardluck. I falsely announced last week that he had won 4 weeks in a row, but this was not correct! My count was off by one.
Week 19: The Party Zone
Congratulations to Mr. Hardluck for winning this week as well, as that means his win streak is now, accurately, 6 wins in a row! Be sure to celebrate!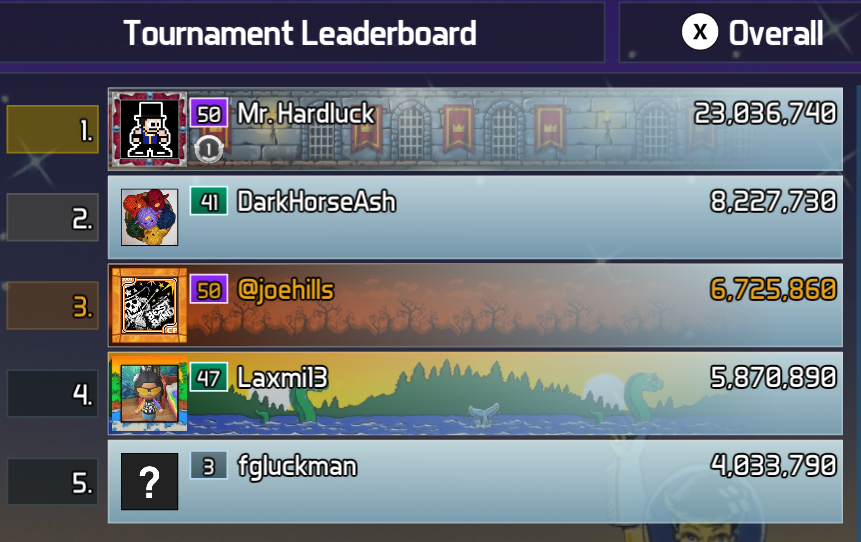 Week 20: High Speed II, the Getaway
Race to win this week's tournament!
If you're interested in joining the pinball tournaments you can find information under activity-sign-ups > #weekly-pinball-challenges.
Streams
Upcoming Streams
Due to the chaotic end of school year events and Joe's lack of confidence in predicting his availability we are unable to present a stream schedule to you at this time, sorry!
With the holiday next week there will be no newsletter, so you can expect a stream schedule on June 5th!
If it will provide any benefit, here is a list of streams that are CANCELLED. There will NOT be any streams on these dates:
Evening of Friday, May 26th.
All times on Memorial day, Monday, May 29th.
Evening of Thursday, June 1st.
Morning of Friday, June 2nd.
Notable streams
Though this VOD starts with the DS9 petitions, Joe says there's an intense TCG match worth viewing, check it out!
Upcoming conventions
Music City Multi Con tickets sales have still not opened. In the meantime, keep your calendar clear, we have tentative dates for Fall and Spring TGD! Again, the dates are NOT final, as the hotel contract has not yet been signed!
So long for now…
Thanks as always for reading the newsletter! Your support helps keep this going, and I appreciate you for taking the time to read! Thank you!
This has been TommyBoii reporting for newsletter duty.
See you around!