Howdy, y'all…
Joe Hills here, writing as I always do from Nashville, Tennessee. We have a lot to cover, so let's metaphorically grab our ink blasters and transform into squids to fill our tanks! Or just read.
Quarterly Community Meeting Results
Tommy both filmed and took detailed minutes on this quarter's community meeting, and you can find those at: https://joehills.net/2022-q3-meeting-minutes/
Here's the high level overview of the conclusions of each of the six agenda items:
1. Discord Prune scheduled for September 22nd
Every few years (number TBD at a future meeting), we'll prune down the number of channels heavily, with the intent to add some back at the next quarter's meeting. Some Discord features that have been enabled by default in the interim will also be reviewed and possibly curtailed, such as allowing file uploads.
To discuss and provide feedback in general about the pruning, please use the Joe Hills Meta > #feedback-structure channel.
To make specific proposals for consideration at the next Quarterly meeting to be held on January 21st, 2023 at 11am US Central Time, please post those in Joe Hills Meta > #next-quarter-new-business so that Tommy can ensure they are added to the agenda.
The categories and channels that will persist after this year's pruning are:
Activity-sign-ups
All-specific-except-for-general

911-emergency resources
actual-rules
current_events
feels
general
identity
introductions
live_event_chat
small_victories

Consume

Arts and entertainment
Bookclub
HermitCraft

Create

All spam channels are kept
work-in-progress

Games

friend-codes
gaming-general
minecraft
pinball
players-wanted

Joe Hills Meta

Announcements
Feedback-accessibility
Feedback-everstorm
Feedback-newsletter
Feedback-structure
Meeting-discussion
Next-Quarter-New-Business

Realms and servers (keep all)
SMP categories and channels (keep all)
Travel (rename to meet-ups, re-focus on individual event channels)
2. Discord Vacation Mode
As proposed in Newsletter #16, the Discord will go into vacation mode when Joe is traveling, setting many of the channels to read-only.
Here is the final mechanism for that:
Vacation mode would start at least one day before I leave, and end at least one day after I return
Set all channels to read-only except:

#players-wanted
#spam-servers-you-operate
Minecraft Server channels
Activity channels for events during that time (like Tommy running Gartic Phone)
relevant travel channels (like, if we're in vacation mode because I'm driving through Ohio, New York and Massachusettes, the meet-up channels for each stop would stay open)
#live-event-chat (while streaming)

Any issues that arose on the Minecraft Servers would be dealt with by server operators, and reviewed within a week of my return
Any issues that arose on the activity channels would be the responsibility of the organizing staff member to address, and would be reviewed within a week of my return
Any issues that arose on the travel channels  or #live-event-chat would be addressed by myself, as I'd be monitoring them to coordinate the meet-ups or during the streams
3. Modmail tutorial
Tommy has requested three hours to work on creating a text tutorial and a short video tutorial this month. I've approved that time.
4. Rules channel visibility
Per suggestion from Kindalas, the #rules channel has been renamed to #actual-rules. It has also been moved into the more prominent "All Specific Except for General" category.
Additions or changes to rules will be made in the #actual-rules channel, then  announced in the #announcement channel as well as the newsletter.
5. New rule explicitly prohibiting hate imagery and dog-whistles
Final text: "No creating or sharing imagery that has been co-opted by hate groups, such as swastikas or Pepe the frog."
6. New rule prohibiting celebrations of bodily harm or death
Final text: "No celebrating the bodily harm or death of a real person."
Minecraft Servers
Upcoming Petitions
Our next two server petitions sessions will be October 1st at 2pm US Central Time, and November 5th at noon US Central time.
Toxxic's 1.19 Modded Server
Toxxic is still accepting feedback about his upcoming server launch in Realms and Servers > #modded-1dot19-fall-next.
The exact launch date is TBD, but our current plan is for Toxxic to turn over the config and mod list to me by the end of this month, so that I can have a version of the server ready for testing the first week of October.
Everstorm obituaries
NJ went spelunking underwater and drowned one block shy of air.
DottyMatrix, on a lovely tour of Castle Hohenzollern, stared death in the face… and its other face… and its third face.
Deep Slate Nine: Halloween Parade Float Contest
Congratulations again to Not Kansas, our victors in the B'hala build contest, who will be hosting the Halloween Parade Float build contest the last weekend of this month.
Exact time and date were TBD at time of printing, but I can announce that our in-studio guest judge will be BadgerSpanner! Update: October 29th, 2022 at 11am US Central time.
In terms of parade float size, each float must be 24 meters or less in length, and allow 8 meters of free space ahead of it.
There are only eleven spaces, so if you'd like to secure a spot, sign-ups will are now live in the Activity Sign-ups > #Oct-29-halloween-parade channel.
Weekly Pinball Tournaments
No Good Gofers results!
Congratulations to WrexVerdi for taking 1st place on No Good Gofers!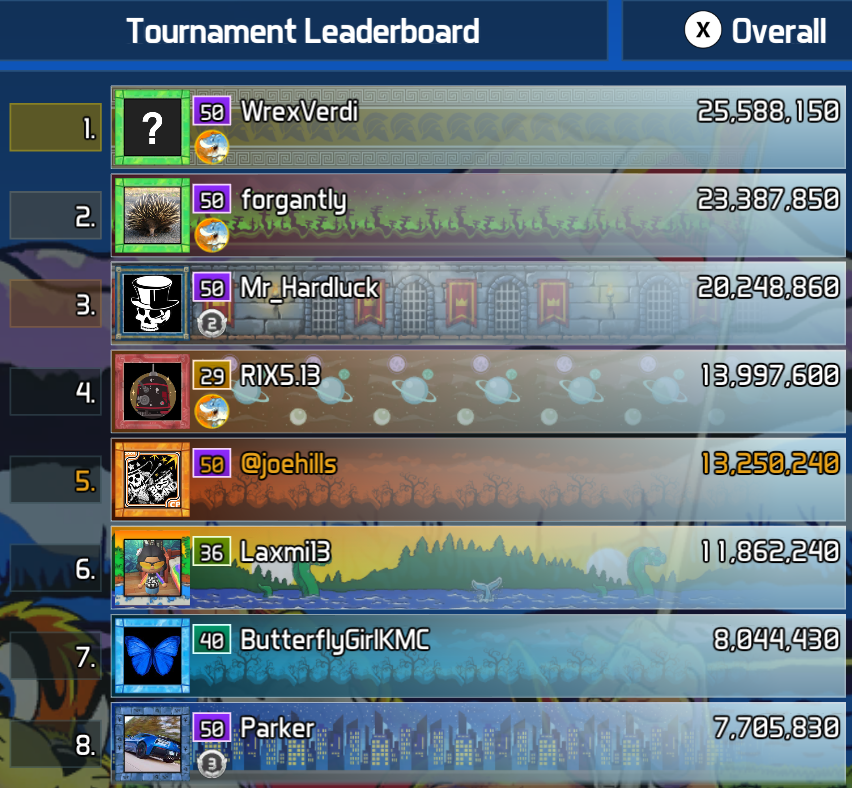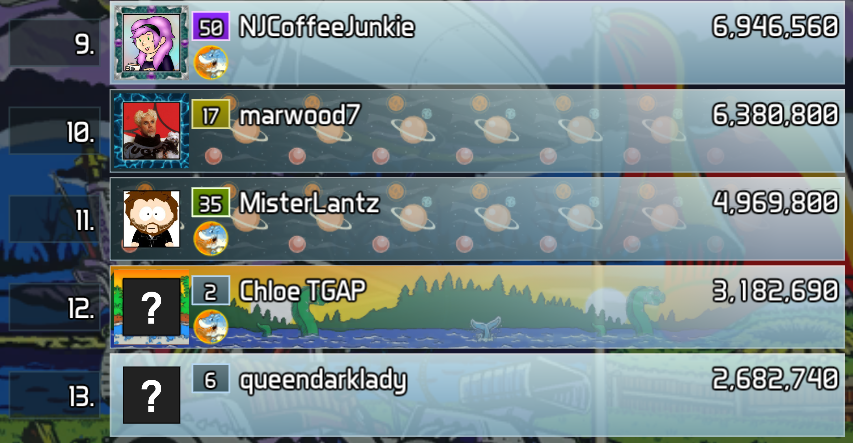 This week: Tales of the Arabian Nights!
Our next table is Tales of the Arabian Nights, which features a spinning genie lamp! And a blue genie! It's totally not licensed!
Meet-ups and Conventions
I still don't have the details locked down for meet-ups during my October trip, but hope to have those ready to announce next newsletter. Thanks for your patience!
Upcoming conventions
Upcoming streams
As I'll be traveling extensively next month, I'm going to try to cram extra bonus streams into my schedule whenever I can. Since the Royal Court has an irregular collab schedule, I won't be able to commit to announcing those in advance, so thanks for your patience there.
Also, don't tell anyone, but I'm kind of curious how long I can go without changing the stream title.
Until next time y'all…
Thanks again to ThatTommyBoii for helping compile this newsletter.
This is Joe Hills from Nashville Tennessee. Keep adventuring!