Howdy, y'all! Joe Hills here…
I'm writing to y'all as I always do from Nashville, TN!
Stream schedule for this week!
Now that school has started here in Nashville, I am feeling more confident about pre-announcing my stream schedule for the week!
All times U.S. Central!
All streams on my twitch and YouTube.
Some bonus streams may be added on-the-fly as my schedule allows.
Monday, August 8th
1pm: HermitCraft 9 bonus stream
8:30pm: HermitCraft 9 live!
Wednesday, August 10th
8:30am: Crafts with ZombieCleo and special guest JaneyLaney!
Thursday, August 11th
8:30pm: HermitCraft 9 live!
Friday, August 12th
8:30am: HermitCraft 9 live! Special morning edition!
Saturday, August 13th
Sunday, August 14th
8:30pm: HermitCraft 9 live!
Pinball FX3 weekly challenge!
This week: SafeCracker
This week's game is a Pat Lawler-designed weird one!
This table has a narrow body, timed play, and a board game in the back glass which you can win to earn a token that unlocks the special multi-ball mode.
I hope you give it a try! Details are in Activity Sign-Ups > #weekly-pinball-challenge
Champion Pub results
Congratulations once again to Forgantly for taking 1st place in our Champion Pub tournament!
Here's the full results: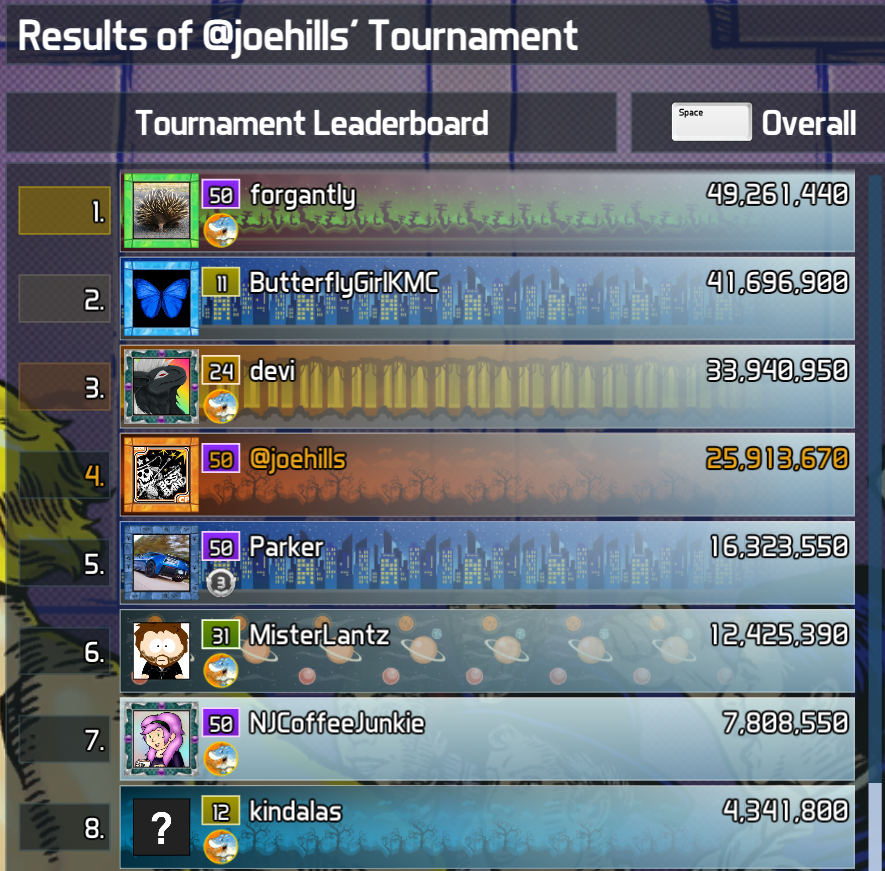 MineCraft servers!
Everstorm: The Reef 2 closing tomorrow!
No obituaries from the second Reef this week—but there's still a day left!
Tomorrow, I will be taking down the Reef map and replacing it with something cool our Community Liaison ThatTommyBoii has sculpted for us. Keep an eye out for the creation of the Realms and Servers > #Everstorm-August channel!
Vanillish petitions this afternoon!
Our Creative Lead for the Vanillish Server, Yirrgzmb will be hosting her first round of petitions, today, Monday, August 8, 2022 at 5:00 PM US Central time!
If you're active on that server or considering giving it a try, pop in!
August 27th B'hala build contest: two of three guest judges announced!
One of the greatest joys in my work is introducing creative and talented people and witnessing the brilliance of their interactions. Our first two guest judges are special folks, and I'm fortunate they agreed to join us!
The judges and I will visit each outpost, moving clockwise, with the first outpost to be selected by dice-roll at the kick-off of the event.
Each outpost will have the opportunity for a representative to join the judges and I on voice chat and present their work.
Where's the outline of the July DS9 and Experimental petitions?
Due to the whirlwind of activity here for the kick-off of the school year, I forgot to delegate creating the petitions outline to Tommy last week. I've done so now, and it will be included next week. In the meantime, the VOD is still available here.
Meet-ups and Conventions
I'm making progress coordinating a series of meet-ups in both Ohio and Boston during my October road trip! Announcements to come as I confirm locations and times with the venues.
Confirmed upcoming conventions
2022
2023
Until next time, y'all…
I appreciate our Community Liaison ThatTommyBoii helping me compile this week's news.
Please feel free to leave your feedback in Joe Hills Meta > #feedback-newsletter!
Keep adventuring!