Howdy folks!
It's Tommy time! Community Liaison ThatTommyBoii reporting for newsletter duty!
Some of you might be wondering why I'm bringing you this week's newsletter. Well that's cause Joe keeps trying to plan around acts of God, but God keeps laughing at him! For evidence of this, check out the status of Nashville's electric service here!
For clarity, Joe's been having internet issues thanks to a storm that's been terrorizing the area, so I'm here as your faithful reporter!
Let's get to the news!
Mario Kart wave 4 launch
I hope you're ready for some kart racing action! With the new wave of Mario Kart DLC launching we have a Mario Kart stream to look forward to this week!
Not just any stream either! Featured guests will include ImpulseSV, Oli OrionSound, Martyn InTheLittleWood, Lizzie LDShadowLady, MythicalSausage, and Jimmy Solidarity!
You can tune in to that on the 9th, Thursday morning at 9am US Central Time.
Vacation time
Joe will be going on vacation next week! Some folks may see the word vacation and worry about the discord going into vacation mode again, but worry not! With the trial run of vacation mode being completed and the ModMail tutorial posted in the #actual-rules channel we feel confident in having all the channels stay open while Joe enjoys his trip!
In relation to that, we will not be posting a newsletter next week, so the next edition will be out on the following Monday, the 20th of March.
Upcoming Minecraft Server Events
Some of these have already been announced, but with the lack of a newsletter next week I think it's good to have a refresher. Let's see what folks have to look forward to!
Modded Petitions: March 11th at 11am Central
Deep Slate Nine Petitions: March 18th at 1pm Central
Van Gogh Parade: March 18th at 2pm Central
Vanillish Petitions: March 21st, asynchronous
Everstorm Obituaries
After completing its own dying wish, Void withered away among roses
Chefnutmeg fell into the fires of mount doom one block of obsidian shy of opening a portal to the nether realms
Centuritron met the same fate as John Fitzgerald Kennedy thanks to some skeletons
Rei died since metal spoons aren't the incredibly inefficient weapons they're advertised to be. especially when wielded by a baby
Pinball FX3 Weekly Tournament
Congratulations to Forgantly in a landslide victory!
Week 7: Tales From the Arabian Nights results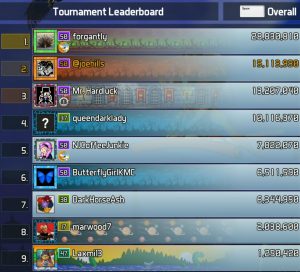 Week 8: No Good Gofers
This week's tournament is only 5 days long so Joe will have time before his vacation to roll it over. Pinball while you can!
Find the details to join in Activity Sign Ups > #weekly-pinball-challenges
Upcoming conventions
Tennessee Game Days Spring has come and gone! I hope any folks who attended had a great time! If you missed the chance to go you can still catch Joe at PlayOnCon! 2023 Sales will open at http://www.playoncon.com/memberships on March 12 at 3PM Central.
Notable streams
Normally we like to include a stream schedule, but with the uncertainty of the internet stability we don't feel confident making a schedule this week. Should all be fine you can expect Joe at his usual streaming times, let's hope we still get some bonus streams!
So long for now…
Thanks for reading the newsletter! If you made it this far your dedication for staying up to date and being in the know truly shines!
Or maybe you just skimmed the whole thing and have stumbled across this farewell anyhow. Either way, I hope you have a great week!
This has been TommyBoii reporting for newsletter duty.
See you around!