Howdy folks!
It's Tommy time! Community Liaison ThatTommyBoii reporting for a second week in a row of newsletter duty!  Joe's been quite busy working on things post PlayOnCon, so I'm here to help get the news out again.
Without further ado, here's the updates!
Draw4 Charity
Thank you to everybody who tuned in to the Draw4 charity stream! In total they raised an incredible $16,115.06! If you would like to read up on them you can check out their website over at https://draw4charity.org/
If you missed the 48 hour livestream and would like to see some highlights check out the Draw4 twitch channel! https://www.twitch.tv/Draw4Charity
Changes to the Patreon Discord
Joe has proposed a big change to come to the Patreon Discord server. We would be reducing the Discord down to essential channels, ones that specifically pertain to Joe interacting with his community.
Don't panic!
No changes are happening just yet. The first draft of the full proposal is being prepared this week based on feedback we're already receiving. That draft is on track to be published in next week's newsletter.
They will be discussed as a community during our next quarterly business meeting, which will occur in September, exact date to be determined.
If you'd like to participate in the discussion before then, feedback is welcome in Joe Hills Meta > #feedback-structure
Everstorm server change
Toxxic's June Everstorm session concludes
Big thanks to Toxxic for being the creative lead for June's Everstorm! We had just one survivor submit to us a haiku!
Void: Raided and pillaged/Escaped the Warden each time/Home in my safe house
If you have any feedback about the June Everstorm session, please leave it in Joe-Hills-Meta > #feedback-everstorm.
New! July Everstorm session begins
New session, new rules
Our latest Everstorm Session is lead by Joe this time around, and will run until Tuesday, August 9th.
If you want the full details, check out the Realms and Servers > #Everstorm-July-2022 channel, but here's a quick synopsis.
The world generation is crazy! If you haven't seen it yet,  we are using Reef 2: Reef Harder from https://mcgs.crummy.com/
New to this session, the selfie contest! Submit selfies with the coolest unique parts of the landscape you can find! You can send them in with your obituaries, like some of the folks down below!
Obituaries so far…
Kingu42 found some food spawners and was cleaning up, but missed the monster spawners… The river didn't protect him from the spider, nor from the baby zombie
MisterLantz was shot down by a skeleton while trying to get back to the bedrock bunker.
WizardOfDocs was ambushed by a skeleton while searching for food and friends. Their last words were "not like this!"
VeryLukely got creeper'd 1 second after finding a chest full of stacks of enchanted golden apples. No further comment.
mercurialvoid pearled to the side of an island and fell into the void all by themself
EchoFiveTwoFive fell to her death after she was pushed out of a water stream by a drowned while trying to escape a zombie hoard.
Yirggzmb fell in a pool of water and was slain by a witch trying to find the exit

MeinsEins fell out of the world because a wither broke the floor under them.
Pinball FX3 weekly challenge with Sami Higgins
Week 6 Results: Mr. Hardluck reigns in Attack from Mars!
Congrats to this week's champion, Mr. Hardluck! Readers with a good eye will notice the top of the board says Surreal7, who was a guest competitor, and thus was not considered in the tournament's running.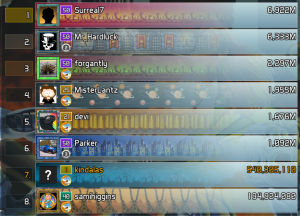 Week 7 Begins: Black Rose
Reminder that the pinball tournaments are now running for only 5 days per week, so be sure to get in while you can!
Learn how to compete in Activity-Sign-Ups > #weekly-pinball-challenges  and get your name in next week's results!
Poetry update
If you enjoy Joe's poetry, you're in luck! Newly added to his website is Fireproof. If you'd like to check out more of Joe's poems you can find them here.
Videos to watch
Here's the latest stuff to watch from Joe!
HermitCraft
Warning! Mangrove swamps, and GoodTimesWithScar?? See it all in the latest HermitCraft episode!
Crafts with Cleo
Another Wednesday, another Crafts with Cleo stream! Here's the VOD!
Dracula chapter 4 reading
Here's the VOD for the reading of chapter 4 of Dracula! This week had special guest BadgerSpanner! Be sure to watch and tune in to the next reading on Saturday night!
Upcoming Travel
Tennessee Game Days Fall 2022
The date of TGD Fall 2022 is Monday, September 23rd to Sunday the 25th! TGD is a charity gaming event.
You can find more information here.
Other upcoming conventions
So long for now…
Thanks everybody for reading this newsletter! We're still taking feedback in  Joe Hills Meta > #feedback-newsletter channel.
This has been TommyBoii reporting for newsletter duty.
See you around!